We provide flexible, bespoke office cleaning Halifax businesses can rely on with skilled, experienced staff to suit the needs of the modern office environment.  Based between Halifax, Brighouse and Elland, we are always available to visit you, carefully assess your needs and prepare a detailed written quotation for your specific requirements.
We offer a full service covering everything from the smaller tasks of sterilising, phones and surfaces and emptying waste paper bins to the larger tasks of vacuuming upholstery and carpets, mopping floors and ensuring windows and toilets are left sparkling.
Most companies hire us to carry out our work daily, but we are also available weekly to suit the specific needs of our clients. Whichever you choose, we ensure the quality of our service remains to the same high-standards across the board.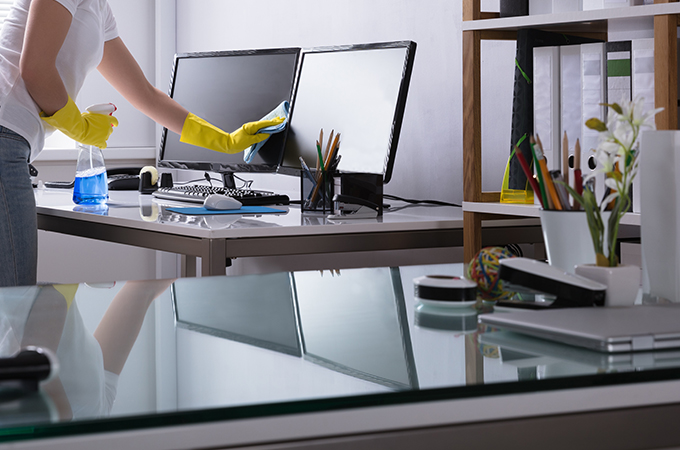 Personalised to suit you.
Our office cleaning Halifax service provides you with a highly personalised and bespoke service. We collaborate with you to organise a schedule that is non-invasive to your working day and beneficial to your company. We can arrive at set times and on specific days of the week – the choice is yours. We can also target specific areas of the business as directed by you. For example, the staff room and waiting area. There's no job too small!
The benefits of hiring a professional team
There are so many benefits, for both the environment and your staff, which are related to a well-maintained office. Absence from the workplace can be as high as up to 60% because of illnesses passed between colleagues. Viruses such as Staph and E. coli, are often transferred from dirty and unhygienic keyboards. It's also worth noting that many workers share phones and keyboards, making it even more vital that these pieces of equipment are regularly sterilised.
Professionally trained and vetted staff
We provide a team of fully trained staff who work round the clock on a rota basis. All staff are fully trained when it comes to COSHH, the Control of Substances Hazardous to Health. They have also completed training based upon the safe use of cleaning materials and equipment. We also carry out regular mandatory training, so that our staff are up to date with the very best practices.
We provide all cleaning materials and equipment
We supply all the appropriate materials, equipment and consumables that are needed to clean your office space. This includes colour coded mop systems, buffers, hoovers and rotary floor equipment. All equipment has been PAT tested. We simply do all the hard work so that you don't have to!